Week of March 20th - 26th, 2017
Monday was spent dealing with my collections from Tanzania but before we did anything, we made a stop at the bus station to get our tickets for the following day's trip to Dar es Salaam. We had to ask several people where the office was but we eventually found it and purchased our luxury tickets. We then made our way to TPRI where I finally met my contact there, Dr. Mollel. During our short meeting, we talked about our field seasons and what adventures we had. I then showed them my collections and explained that I needed a Phytosanitary certificate. She was uncertain the exact procedure so she sent us to Tengeru, the next town over, where they issued the certificate I needed. The directions they gave us sounded easy enough so we took off for the office. After fighting the traffic and road construction crews, we made it to Tengeru but we drove through the town not seeing a sign that supposedly existed. We turned around and decided to stop at a vegetable institute and ask for directions. They told us to turn at the road in town and take it to the horticulture office. The rough road to the compound was in need of some love and no one could seem to tell us where to go. The horticulture office told us to go the pest control center since they didn't issue phytos and luckily, we knew where the sign for the pest control center was so we headed back to the entrance. However, had we not stopped to ask someone we would have never found it. Not a sign in sight and the offices were in a little walled-off compound. Anyways, we got the phyto with no issue and headed back to town where I shipped my specimens and had lunch. That evening we had a bbq in order to use up our charcoal and repacked our luggage for the early morning bus ride.

5:30am came quickly and I remembered how much I hate waking up before the sun. A quick breakfast and coffee, and we were off to the bus station. We arrived at the station, dropped off the car with Yusuphu and boarded the bus. Take off time was 7:30 so we waited and watched other people board. While waiting, it began to rain pretty heavily and I soon discovered that the bus leaked right into my seat. Yay! Luckily, it stopped soon thereafter and I was dry again. We took off about 25 minutes late and made random stops to pick more people up or drop them off. So much for the word "express" in Dar Express. The first 2-3 hours was spent listening to the loudest Swahili gospel music videos in the world. We had the great pleasure of experiencing the same DVD twice that morning. Later, it started to get warm in the bus so I decided to open the window. In the RAV4, Killian and I rode around most days with the windows down and I came to enjoy the air on my face. Apparently, Tanzanians have some weird aversion to fresh air on a stuffy bus so the lady in front of me kept closing the window. I'd reopen it then 5 minutes later she'd close it. We did this maybe 5 times until I eventually got too hot around the town of Same and pulled the window back far enough she couldn't easily close it. I won. It was also around this time that they finally turned off the gospel music and played a real movie...almost. We got to watch 4 Tanzania originals, well, it was actually two movies but they both had sequels. One dealt with a rich woman and her baby daddy issues, the other was the love between another rich woman and a much older man. The production quality of these movies looked as if someone with a hand camcorder made the film and the dramatic scenes were telenovella worthy. After the movies we were treated to modern Swahili music, which was actually good and had amazing video quality. Whoever made these should've made the movies we watched. Then we were treated to another movie which involved a rich gem dealer and his girlfriend who wanted his money and him dead. In the end, a boy he took under his arm turned out to be some weird genie thing and saved his life. Why this wasn't up for an Oscar, I'll never understand. By this point it was getting late and our 8-10 hour bus ride was probably going to take 12-13 hours. The last two hours were the slow crawl into Dar and to our pleasure, they turned on the same gospel dvds as earlier and they seemed even louder than the last time. Awesome. Finally, after 12 hours we arrived at the bus office. We hopped off, grabbed a taxi and arrived at Safari Inn. They were happy to arrange a taxi for us the following day and gave us some tips on where to go. Killian and I were starving so we went around the corner and had some awesome street food then made our way to the Hyatt. Sadly, the rooftop bar was rented out for the evening so we settled for drinks in the bar lounge. We then went back to the hotel and fell fast asleep.

Time for Namibia!! We jumped out of bed, had breakfast and failed at walking to the St. Lutheran church. Our taxi driver suggesting a little earlier and good thing he did because the drive to the airport involved about 15 minutes of sitting still in traffic. After waiting for about 5 minutes our driver turned around and noticed we were sweating bullets. He kindly turned on the A/C while Killian and I made lunch in the backseat since we were trying to eat up all of the food we couldn't take with us on the plane. We arrived at the airport, waited and then boarded the plane to Johannesburg, South Africa. Once there we passed through customs and boarded our next flight to Windhoek. After landing we waited for a whole 5 minutes to get through passport control, picked up our bags and jumped into our waiting taxi. The wonderful road, lack of traffic and well-marked street signs and street lamps made me giddy with joy to be back in Namibia. This trip will be easy peasy compared to East Africa. We soon arrived at Casa Onganga, a must visit when in Windhoek, where we were greeted by the owners Roswitha and Sigi, which made me even more happy because I hadn't seen them in 3 years. We carried our big bags to the back and there he was, Taylor! His furry face and long hair were a sight for sore eyes. He came to join our adventures in Namibia and we were happy to have him along for the easy ride. We stayed up late chatting about our exciting times in East Africa, catching up on life events, and general buffoonery.
Thursday, we picked up the truck and decided Taylor would be driving his whole time here. I was exhausted after constantly driving for over 2 months and we added Killian too for when Taylor leaves. After signing the papers and paying, we headed to the National Botanical Research Institute of Namibia. It was great to see Leevi Nanyeni who traveled with me my last two times in the country, and Silke Rügheimer, the curator of the garden and herbarium. We caught up about my current research plans, my plans while in the country and general fieldwork issues. The reports of rain were good and I decided we'd travel South since I lacked samples from there. I also wanted to go to the NW a bit because I needed additional samples of some of the new species I'm trying to describe. We then went for a walk in the garden, picked up a plant press and headed back towards the B&B. We got groceries then organized our things for our departure the following day. Later that afternoon we visited with an old friend, Inge Pehlemann, and talked about plants and rainfall reports. She recommended a place to eat in town since we needed dinner and after getting directions we made our way to Joe's Smokehouse. Oryx, zebra and kudu steaks were on the menu so we obviously ordered those and enjoyed the touristy bar scene. After dinner we scurried over to the Hilton rooftop bar where we had a drink while watching the sun set, the city lights turn on, and an organized night bike ride congregate and take off.

We took off Friday after a yummy breakfast and made our way to Uis. The distance of the drive is short but we zigzagged our way in search of plants. Driving in Namibia is so wonderful and Taylor was a natural at it. Pictures of the drive do better than my words so look for them. We arrived in Uis and decided to stay at The White Lady, which is another must visit when I'm in Namibia. We set up camp, made dinner and enjoyed the night. Sadly, my tummy started feeling weird so I headed to bed after my shower.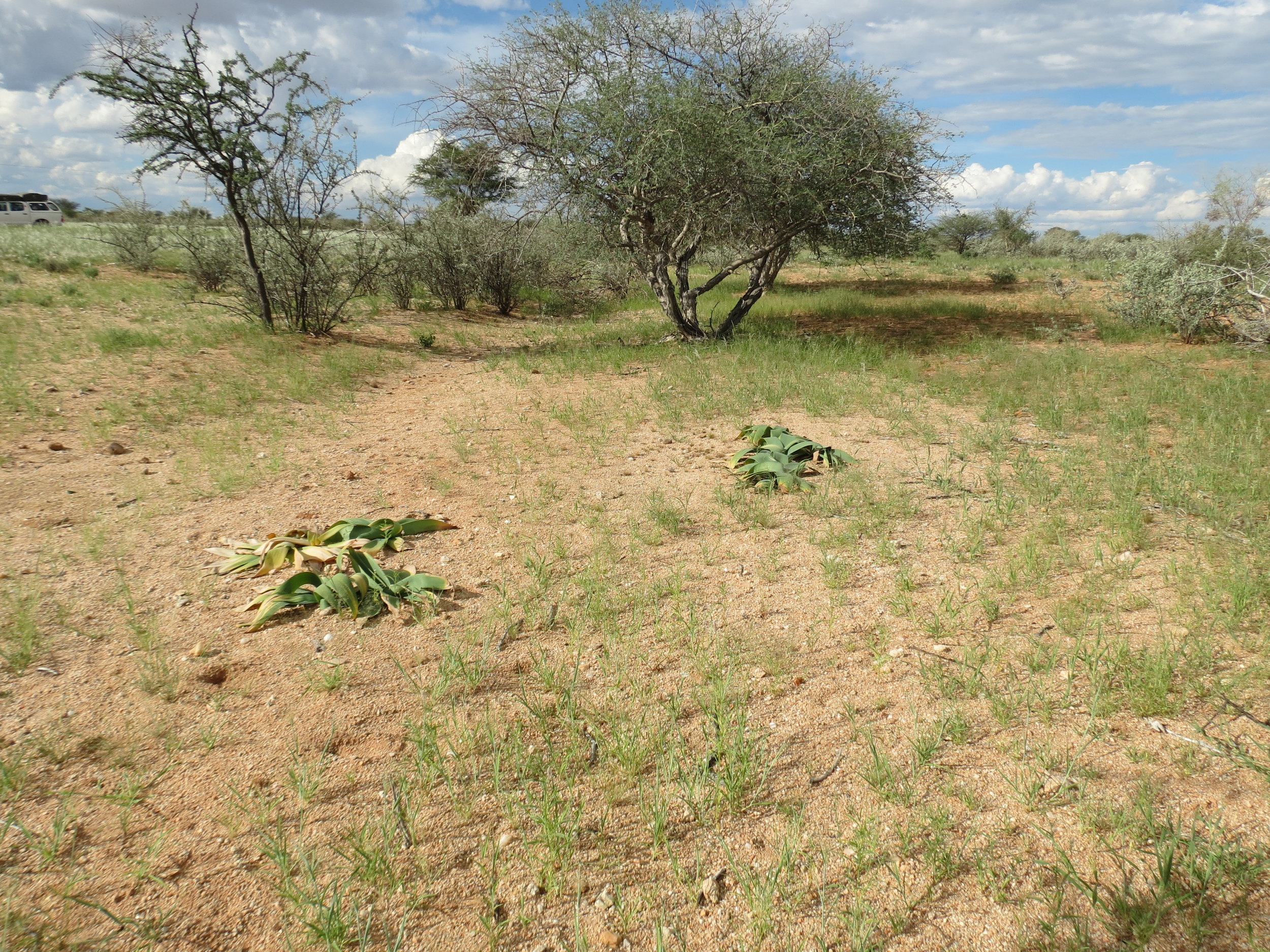 I awoke the following day for our trip around the Brandberg mountain with a very upset tummy. Great, my first time being sick this trip is in my favorite country. After getting some advice on where to stay from Karl we took off. The area around the mountain was surprisingly green and we saw lots of nice plants. Around lunch time we drove up into a gorge and hiked up a bit after filling out bellies. We then continued around the southwest side of the mountain until we entered a somewhat moon-like looking landscape where we found tons of Welwitschia. Obviously, we had to stop for pictures. Continuing on our trek across the moon, or Mars, take your pick, we eventually came to the canyon area that would lead us to Rhino Camp. After making a wrong turn and meeting the river, we eventually found our way to the amazing place. We set up camp, watched the sun set and the stars come out. I tried my best to eat something and after a few bites I crawled into bed for the night.
Sunday was greeted with two-day old food that decided to show itself again while we were driving out of Rhino camp. Luckily, I felt better afterwards but the ride was still rough. We circled around the South side of the Brandberg mountain and then returned to Uis. I mostly stayed in the car the whole time for obvious reasons. After refueling and getting some water we headed south towards the Spitzkoppe area where we camped later that day. Amazing campsite, amazing place, go visit. We arrived early afternoon, read, enjoyed the views from a rock and watched the sunset. The stars came out to play and they were amazing. I was also feeling much better and actually ate some dinner so things were looking up.